Experienced personal injury lawyers at Claremore Attorneys Law Office are dedicated to seeking financial compensation for those who experience serious permanent injuries or wrongful death. When someones negligence harms you we can help. We recognize that no amount of money can make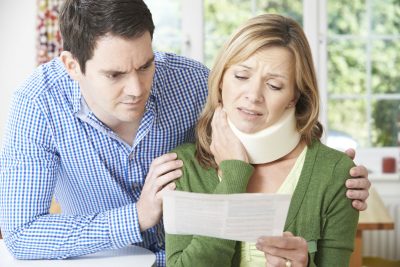 up for the loss of a body part.  Neither can it substitute for the love of a spouse who dies in a car accident.  Our Claremore personal injury lawyers successfully represent individuals against negligent drivers or manufacturers of defective products. This financial recovery helps pay medical expense and pain and suffering.
Kinds of Personal Injury Claims:
The majority of personal injury claims will be based on laws of negligence.  However, some cases are based on intentional misconduct.  Negligence refers to the failure of an individual or corporation to exercise a reasonable amount of care. This reasonable care is that care needed to prevent injury to others.  When the failure to exercise reasonable care causes injury or a fatality, the victim may have a right to financial compensation.  When a death or injury is caused by intentional or reckless conduct, this might entitle the injured party to punitive damages.
Our Oklahoma personal injury attorneys provide compassionate and aggressive representation in the full range of personal injury cases including:
Car Accidents
Tractor-Trailer Collisions
Motorcycle Crashes
False Imprisonment
Slip and Fall Accidents
Dog Bites
ATV Accidents
Pedestrian Accidents
Drunk Driving Accidents
Swimming Pool Accidents
Spa Drain Entrapment's
Nursing Home Neglect & Elder Abuse
Medical Malpractice
Work-Related Injuries
Assault & Battery
Negligent Security
Bicycle Accidents
Distracted Motorist Crashes
Defective Products/Product Liability
Bus Accidents
Clergy Abuse
Sexual Assaults
Construction Accidents
Our Claremore Injury Attorneys Deal With The Insurance Adjuster:
When you pursue a personal injury claim, you will usually deal with the insurance company of the party causing the injury.  Whether you're dealing with an adjuster of the party's homeowner's insurance, car insurance or other type of insurance carrier, insurance company representatives share a common goal of denying or minimizing the liability of their insured.
If the insurance adjuster contacts you, the best thing you can do is to refer them to your Claremore personal injury lawyer.  Although the insurance adjuster seems friendly, his job is to obtain information that lessons his company's financial exposure.  Insurance company representatives understand how to elicit the types of information that might compromise your claim, so it's advisable to let your attorney handle them. The insurance company also might request that you provide a recorded statement or sign paperwork under the guise of "processing your claim," but you should never sign any paperwork or provide a statement to insurance companies.  Thus, if the insurance company makes such a request, you should take extreme care.
Injury victims also should avoid settling a claim without talking to a personal injury attorney.  The first reason is that the value of a claim can be difficult to ascertain, as a result there is a significant risk that you might accept a low-ball offer that proves insufficient to cover unanticipated future medical bills or lost wages.  The second reason is that the insurance company generally will require that you sign a "general release of liability" as a condition for providing a check.  Moreover, this type of release is extremely broad. It typically will include even claims and injuries you do not know about when you execute the document.
What Kinds of Financial Compensation am I Entitled to Receive:
What types of compensation that you are entitled to receive will depend on the nature of your injuries and also other facts involving the circumstances surrounding your injury.  However, our Oklahoma personal injury lawyers handle legal claims for all types of injuries, including but not limited to the following:
Broken Bones & Fractures
Traumatic Brain Injuries (TBIs)
Severe Burns
Amputation
Dismemberment
Spinal Cord Injuries
Back and Neck Injuries (Disk Injuries)
When you suffer physical injuries because of another you may have the right to seek financial compensation for some or all of the following types of damages:
 Costs of medical treatment and rehabilitation
Lost earnings
Diminished earning capacity
Pain and suffering
Mental anguish
Loss of companionship, affection, support and guidance of a spouse/parent
Burial/funeral costs (wrongful death claims)
Punitive damages (requires more than ordinary negligence)
Contact the Claremore Attorneys Law Office Today:
If you'd like a free consultation with an attorney from Kania Law-Claremore Attorneys Law Office please call (918) 379-4872  or fill out this form and view our Calaremore attorneys blog.  Our injury Attorneys provide our personal injury clients referrals to doctors, rental car providers, and auto body collision repair centers.